Farewell Ophelia – October 2015
Dear Ophelia,
For over 15 years you have been such an important part of my creative life. I often thought that I would have loved to see you go on forever, as you seemed to move through time like an eternal upbeat young lady. But at the same time I was afraid that would eventually come to an end.
That end came on July 9th, 2015. I was in France and thought, with sadness, that I would not be able to come back to see you one more time and to say good-bye.
When I finally arrived in Long Island, I got on the old yellow school bus heading to your precious church. Mixed emotions occupied my mind during the twenty minute journey. I was happy to have made it, and sad, as I knew it would be the last time I was going on a trip to meet with you. All these memories were filling up my thoughts, and while watching the other occupants of the bus, who I am sure were wondering who I was and what was I doing there, I was trying to guess who was who among your big and lovely family. I finally got to meet everyone and put names to the faces on all of your children that you talked so proudly of for so many years.
It was a lovely service, filled with love and respect and laughter, hearing all these stories which are so much a part of my inspiration. It was so much "you". You were there I am sure singing away with us, well, I honestly should say with them, the ones who can sing.
Your faith was so strong and uncompromised that I am sure you are reunited with Betty. God bless the two of you and keep you together forever.
On my side I will miss you and treasure my memories with you forever.
You will be eternal in my heart and art.
Rest in peace.
Thierry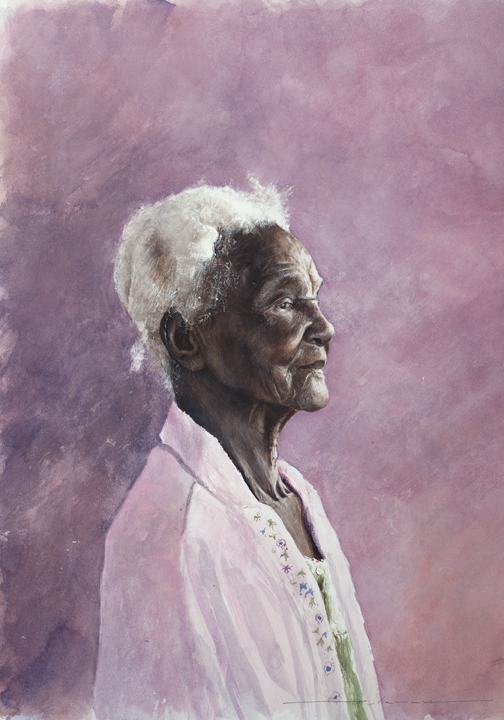 Ophelia remembering – 2018 – 20 x 27 inches – Watercolour on Twinrocker paper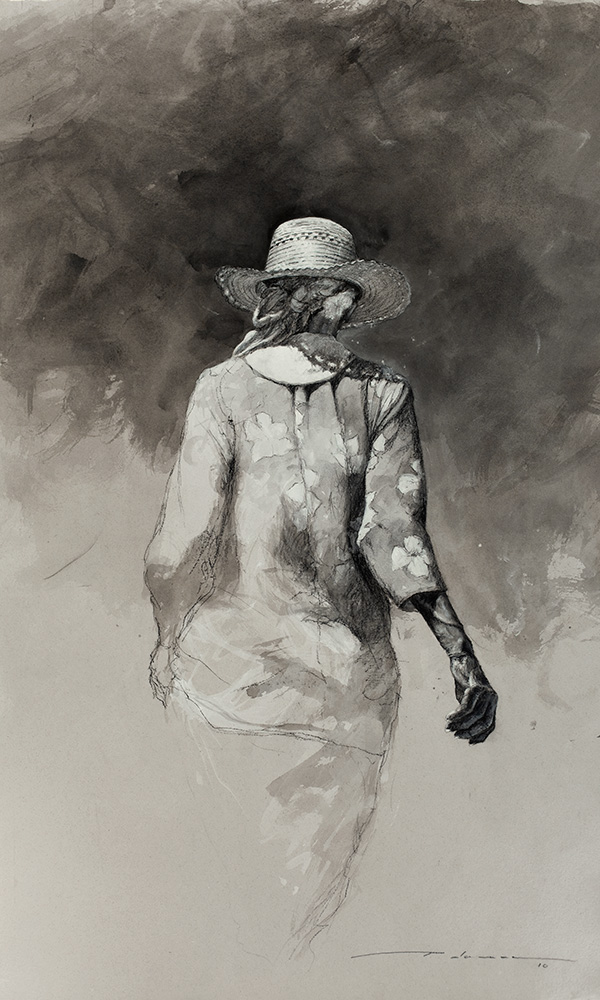 Ophelia walking to the dinghy – 2011 – 30 x 20 inches – Ink, charcoal & casein
on Twinrocker paper